More than ever, businesses can better build relationships with their consumer's thanks to social media and the internet. Digital marketing plays a pivotal role in the corporate world — it's a product of global digitalization. However, the constant innovations in the industry make it relatively hard for some businesses to keep up. That's where we come in!
Keep It Real Social is a boutique social media marketing company that has been in the business since 2007. Our team is known as Michigan's finest, having a great track record and establishing a great rapport with our partners.
We offer a vast array of services that can help you transform and make waves in your respective market. With that being said, our team is always looking for ways to continue expanding and improving. In light of those efforts, we're extremely excited to announce that we've finally launched our profile on Clutch. Our team has already received three phenomenal reviews from our beloved clients since then.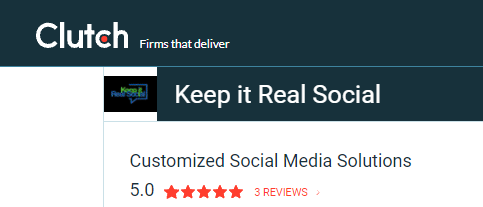 Digging Deep for Our Clients
To give context, Clutch is an independent B2B review and rating platform that sees millions of browsers from all around the world. The site is known for its collection of client reviews, market reports, and agency listings.
Three of our beloved clients helped our team get started by providing excellent reviews on our profile, and we're here to share one of those with you.
A Clutch analyst interviewed Robin Bennett, the owner of Sunglass Shoppe, to personally ask their insights regarding our ongoing social media marketing partnership. We've been closely working with the client since 2019, and the review they provided marks five stars across the boards — quality, scheduling, costs, willingness to refer, and overall satisfaction. 
During the onboarding process, we took a closer look at their existing social media marketing efforts and analyzed what we needed to do. Our due diligence in research has helped us craft bespoke strategies that significantly helped them. Since working together, our clients saw an increase of as high as 100-300% in their social media platforms. We've also helped their website rank higher in terms of SEO and essentially perform better.
"I've achieved consistency in my business' messaging. The information they provide is good all the time, and that's true for all the channels that I have from Facebook and Instagram to Pinterest." — Owner, Sunglass Shoppe
We are beyond grateful to Sunglass Shoppe for trusting us with their digital marketing needs. This amazing partnership has allowed us to improve our work and welcome other opportunities.
If you're curious about the full scope of the review, you may visit our Clutch profile and take a look at it and our other reviews there. The team is looking forward to gaining traction on the platform and seeing more reviews like this soon.
Great Consultants
Company projects are important when showcasing one's ability to deliver, but recognition from industry experts also matters. Aside from our debut on Clutch, we're stoked to announce that Keep It Real Social was also featured on Top Design Firms.
For further context, Top Design Firms is a new B2B website that curates and compiles comprehensive industry data to help corporate buyers and service providers. Our team was regarded as one of the top-performing social media consultants for 2021.
We're genuinely honored to receive such esteemed praise. We hope by next year, we can unlock more opportunities, recognition, and awards for our team.
Have a project in mind? Let's connect! Send us a message and tell us more about what you have in mind. 
Sign up for our weekly newsletter and get even more marketing ideas sent straight to your inbox!