If you own a restaurant, check your Google My Business listing for a DoorDash link under your menu. DoorDash is a food delivery service, and I'm guessing you did not authorize this third-party link and had no idea it was even there. I want to share with you how to remove this link if you are not a partner and what two of my clients have experienced. There's never a guarantee, but hopefully, these tips help your restaurant if you do not want to have the third-party link as an order option. These steps were successful at removing the link for my clients. 
Two of my clients are restaurants, and both had DoorDash links added to their Google My Business profile under their menu as a way for customers to order. Neither client was a DoorDash merchant with any affiliation. My clients or my agency did not add the order link from DoorDash. Both clients received DoorDash orders that were never picked up by DoorDash, meaning they never received payment for the food they prepared and had unhappy customers. The exact opposite of what any restaurant wants.
If this has happened to you, I'm sorry. It is infuriating. Here are some tips for finding this unauthorized third-party link and steps to remove it, hopefully. I will warn you, DoorDash does not make this easy, and Google My Business requires you to first contact the third-party before asking for their help. The process is long, time-consuming, and there are no guarantees; you might have to try more than once.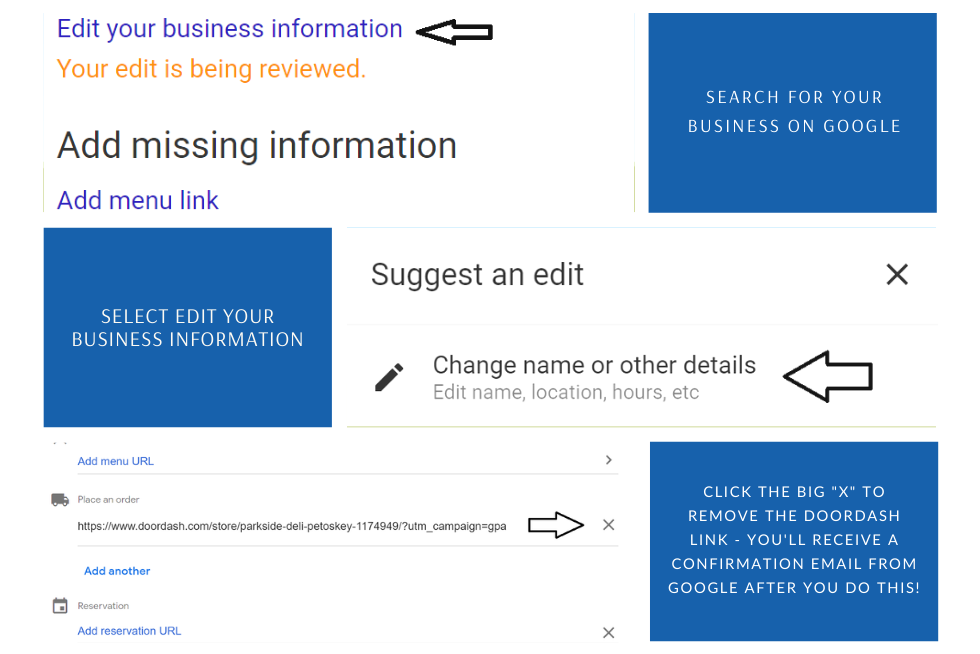 Step 1: Google your own business to find your Google My Business (GMB) listing and request to edit your listing and remove the link. Essentially you are asking for this change on the front-end instead of your dashboard for your GMB listing. Unfortunately, if you log in to your GMB listing, the link under information>Menu>Order Ahead cannot be edited.
Step 2: Contact DoorDash and request they remove their link from your GMB listing. To complete the contact form for DoorDash, click here. When we asked for this, they replied, asking for the following.
In order to process your request, we require the following information:

Which part of the Google Knowledge Panel would you like to exclude DoorDash from? (GMB Ad, Google Food Ordering, GMB, All):

Specific stores, or all your stores: Specific stores/All

Your DoorDash Store ID (add Store IDs for each store separated by commas): 

Specific stores to be excluded (add zip codes for each store separated by commas):

Name and title of the employee requesting removal from Google Knowledge Panel:

You will be removed from the Google Food Ordering options within 2 weeks after we receive the information above.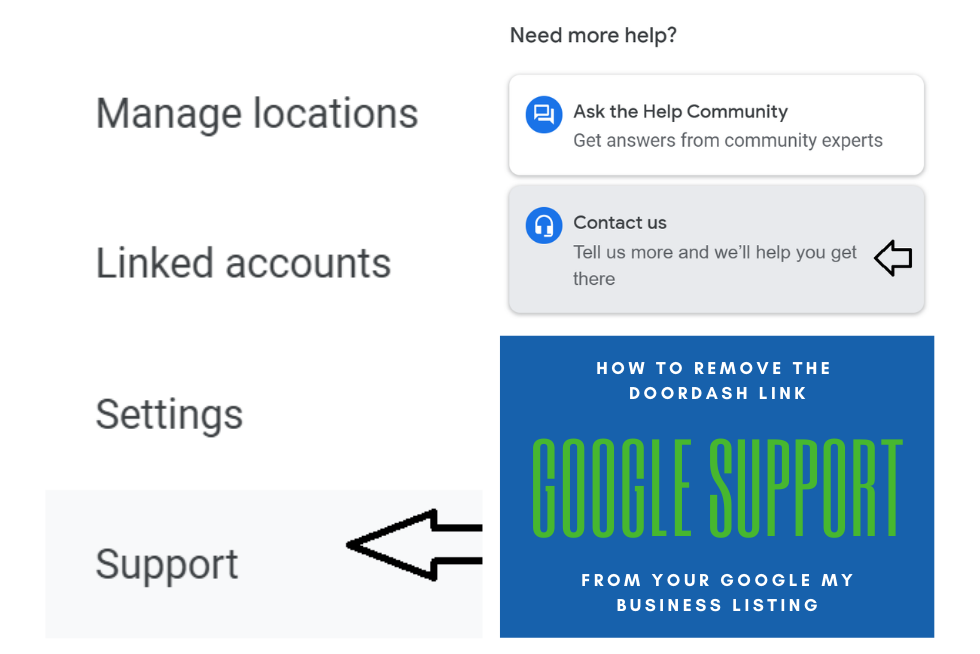 Step 3: Contact Google support to remove the link manually. Google's policy is first to contact the third-party, which we did, but DoorDash replied, asking for the last four digits of our tax ID, banking number, and bank name to remove the link. I don't advise anyone to provide this Information to DoorDash. Here is a screenshot of the actual email from DoorDash.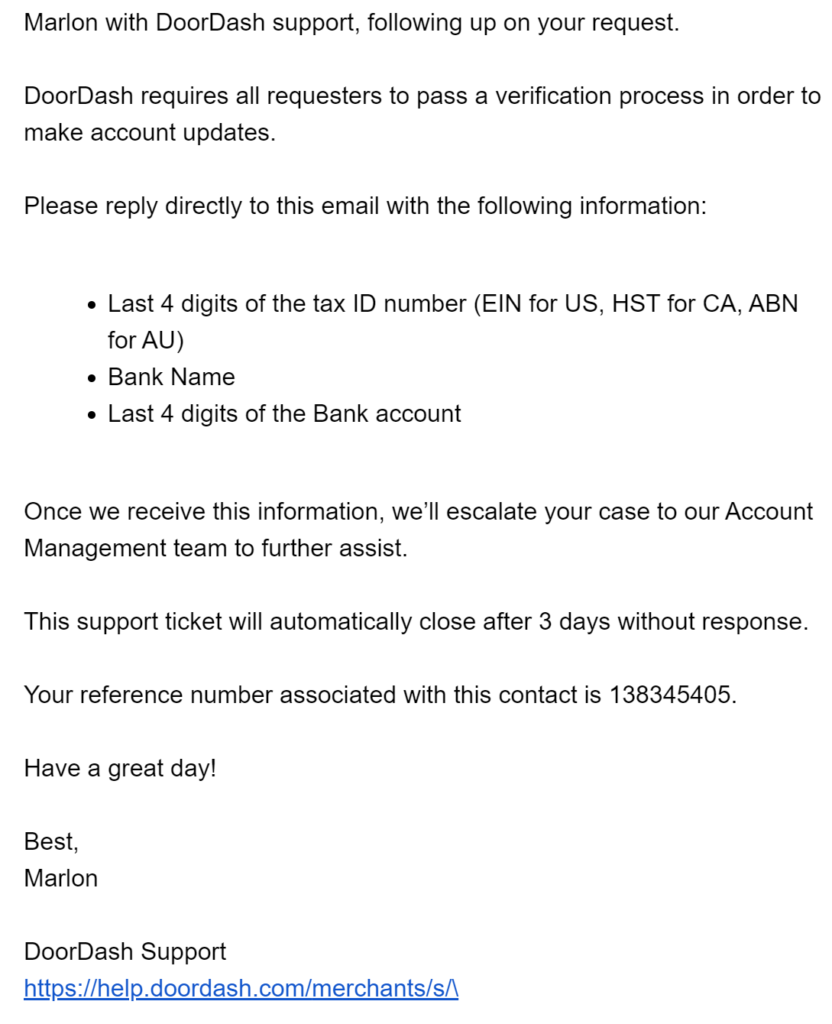 It is important to note that Google support might tell you they cannot help you because the third party is not refusing to remove the link. If this happens, you must say that DoorDash won't remove the link unless a bank name, the last four digits of your bank number, and the last four digits of your tax ID number are provided. It was my experience that Google support will then escalate your request, but it will take 24 hours. Click here to contact Google My Business support; they're very friendly.
Step 4:  This might not help you remove the DoorDash order link, but I suggest completing the Opt-Out form from Google My Business to prevent other third-party links from appearing in the future. You can fill out this form here and also follow Google's instructions for removing the order button for all providers but this feature is only available to restaurants that work with supported providers to fulfill online orders, so you might not see this option.
I always explain to my clients that Google's job is to provide relevant information to the consumer. Using local SEO efforts, such as a Google My Business listing, we're making sure Google provides relevant information when consumers search for a client's business and services. In this case, my client was doing their job to help the consumer find accurate data, but a third-party was unethical. I certainly hope Google My Business addresses concerns such as this for the restaurant industry. Most mom and pop places don't have an agency such as Keep it Real Social to spend hours on a Friday evening to rectify situations such as this one. We are happy to report that our efforts were successful, and the DoorDash order link was removed from our clients' Google My Business Page.
Small businesses, especially restaurants, have felt the pinch from COVID-19; the last thing they need is to have their Google My Business profiles hacked, only to cause them to lose more money and potentially their customers' trust. If you have a similar story or advice to help others avoid issues like this for their business, leave a comment below. 
For more great social media marketing tips for businesses, subscribe to the weekly Keep it Real Social email. As a thank you for subscribing, you'll get the Keep it Real Social DIY social media audit and Google My Business tips worksheet.