Does it feel like everyone and their mothers (and grandmothers) are using Facebook, Twitter, and other social media websites these days? It's not just you- everyone really is using social media these days, which means your business needs a robust Petoskey Michigan social media marketing strategy. That's where we come in. At Keep it Real Social we will help get your Petoskey Michigan business up and updated on the most popular social media sites. We'll help you attract customers, improve brand recognition and reputation, advertise service or product specials, and gain as much 'buzz' as possible.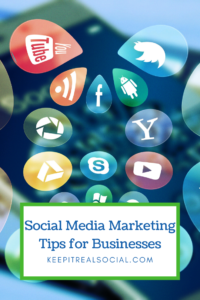 At Keep it Real Social we're focused on providing results for customers. Take a look at some of our social media marketing testimonials and you'll see that we can help local Petoskey Michigan businesses achieve their specific goals. We can manage your social media marketing campaign by engaging with your customers, sharing pictures or videos of your products, services, or special events, and posting regular updates about your business. We'll help you to effectively build your brand and grow your business online through a proven social media marketing strategy- and all in a way that ensures maximum return on investment.
Learn more about our trusted social media marketing services today by browsing through our website, https://keepitrealsocial.com. If you're interested in free social media advice, then feel free to give us a call today at 231-753-6157  or fill out the simple contact form found on our website.