Social media is not only a great tool to help market your business, but it can also be beneficial when it comes to providing the best customer service. It has been shown to be highly effective at addressing customers' questions and concerns, because you can talk to them on a platform they are already using rather than seek you out a different way (e.g. phone or website).
Here are some valuable things to remember when using your social media platforms for customer service:
Set up a customer service handle
If your business manages many customer service issues such as returns or exchanges, you might want to consider having a designated handle to provide better service, such as @companyname_help. That way, your company can separate any customer service issues from your brand's social media platforms. This also allows customers to search for any common issues and solutions before reaching out to you, saving both parties time.
Be proactive
Monitor your social media accounts so you can be proactive when an issue arises. One perfect example is my customer service interaction on Twitter with Southwest Airlines.
I once posted a tweet on my personal Twitter account expressing my frustrations with my flight that had been delayed and then finally canceled after 24 hours of waiting. I wasn't looking for anything; I was venting. Within minutes of sending the tweet, Southwest Airlines reached out to me and asked me for some information to help resolve the issue. Days later, there was a $200 flight voucher in my email. Because they were so proactive with their customer service, they won me over as a customer for life.
I had the same experience with the brand Fit Bit, and they replaced my broken Fit Bit band at no cost to me because I tagged them in a Tweet. These two situations left a favorable opinion of their company, and I am now a loyal customer.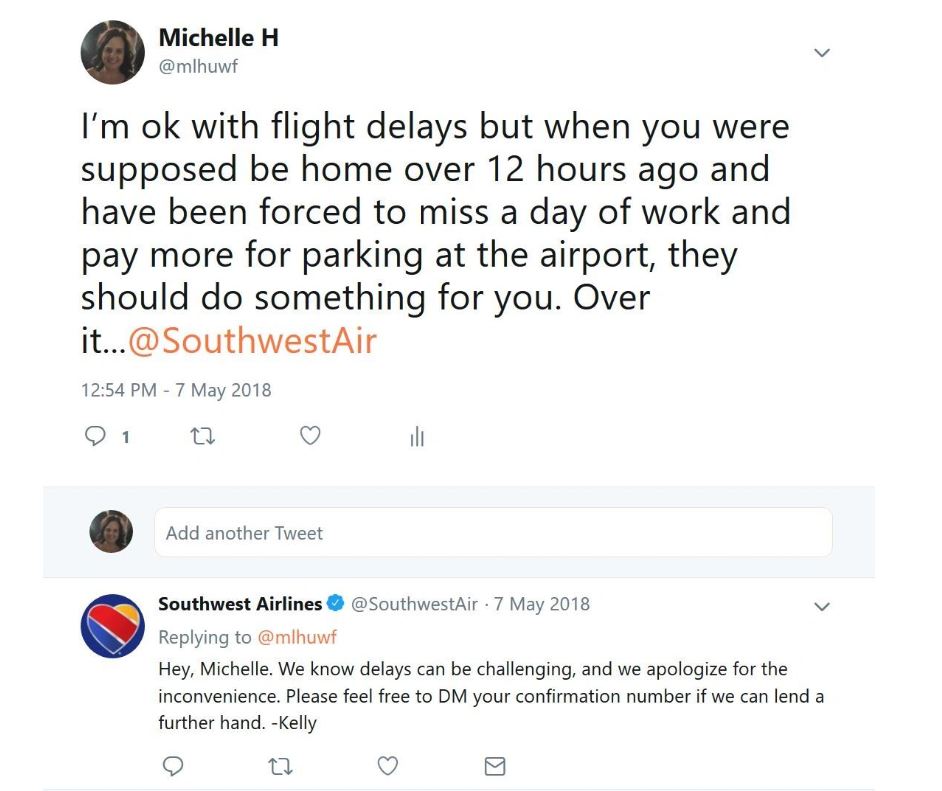 Always Respond
This point may seem obvious, but it is an excellent reminder to always respond to questions and comments on your platforms. This includes both the good and the bad comments. Remember, people asking the questions on your social media platforms may not be your customers currently but could be in the future. If you are responding and providing good customer service, they will see that you care about your customers and their needs. If a customer reaches out and you don't respond, they will likely take their business elsewhere.
Use a chatbot
If your business is big enough where you don't think you will manage all the inquiries that come in, consider using a chatbot. Chatbots are a great tool to use if you want to provide around-the-clock customer service. You can set up chatbots to answer common questions your customers have while you are offline.
With social media always at our fingertips these days, business owners can connect closely with their customers and future customers. Take advantage of these tools to provide the best customer service.
If you are looking for help with your social media our experts at Keep It Real Social are here to help you. Let's connect!