Instagram posts are not chronological anymore, and if you want to have your posts appear in your followers feeds and be ranked by Instagram you need to encourage comments. Any comment with more than THREE words counts. So how do you do this?? ⠀
You may be wondering why you NEED comments on Instagram. The simple answer is that it bumps you up in your follower's feeds. A few years ago, Instagram started using a smart feed-based algorithm. What this means is that there are key factors that play into how many of your followers will see your posts.
You can read more on how the Instagram algorithm works HERE, but the main idea is that your content is based on:
Interest
Timeliness
Relationship
The one we want to focus on to encourage comments is relationship, In order to show Instagram that you have a good relationship with your followers, you need them to comment on your posts. This does two things – allows other people on Instagram to find you and bumps your posts to the top of your engaged followers feeds.
But HOW do you get comments on your posts? Here are some quick tips on how to encourage comments on your Instagram posts:⠀
Comment on other Instagram posts and don't just leave emojis or one word. You need to leave at least 3 words in the comment section for it to be "counted" by the algorithm.
Use @download_repost but post with a comment first and then share the content.⠀
Give shout outs to your favorite people on Instagram or reference a brand or business you love or that you're wearing.
Tag a business when visiting or add them to your IG story. ⠀
Create timely content that your followers want to share with others.
Reply to comments on your posts in a timely fashion.
Post engaging content that relates to your business.
Host a giveaway and have your followers comment to enter.
In your caption, ask your followers to tag someone who can relate to your post.
Use Instagram to post about your most commonly asked business questions.
The point is to get engagement, you need to engage yourself. You need to be active on the platform and provide engaging content that your followers WANT to comment on. Also, be sure to follow the tips on how to grow your Instagram.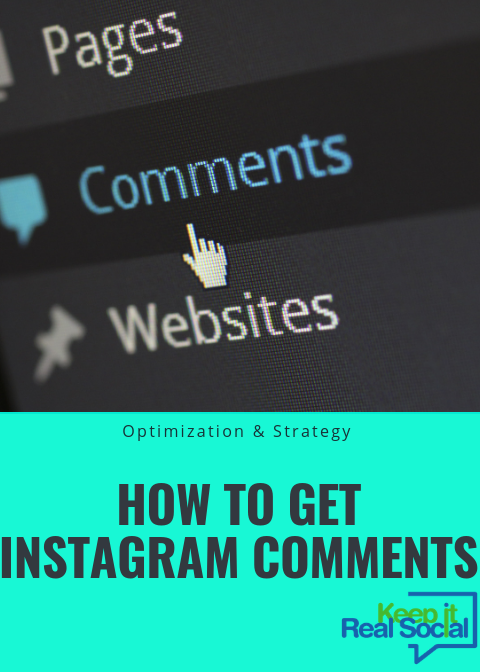 Did you know? Keep it Real Social is a social media marketing company that helps businesses of all sizes use social media successfully to connect with their target market. A Northern Michigan company that focuses on social media optimization, strategy, implementation, and education. CEO and Founder, Sommer Poquette, is a social media consultant, strategist, and social media specialist.