Social networking sites are constantly evolving. The most popular are tweaking their algorithms regularly, introducing new features, and eliminating ones they deem as not working. All of this change means that marketers who use the platforms must keep up. One great option for businesses and brands on the most popular network is the ability to run Facebook ads in Messenger. This is great news, as it gives you yet another avenue for reaching your customers where they are. However, there are some things you should know before jumping right in. Below are some basics of integrating Facebook ads into Messanger that will hopefully help you. 
About Facebook Messenger
In case you're not familiar with Messenger, here's a quick overview. Messenger is a smartphone app in which users can communicate in real-time. They can share photos, receive money, or make voice calls to their Facebook contacts. The ability to run ads on Messenger gives your brand another means of connecting with potential consumers. 
T

ypes of Messenger Ads
Another feature of Messenger is the ability to make online purchases within the app, which is yet another reason why marketers should be excited to get in on the opportunity to interact with their customers here. There are a few ad types to pick from. The first allows you to Send People to Messenger (Direction). This type gives direction to your sales leads to connect with you on Messenger in order to begin a conversation with your brand. The second type lets you Send Ads to People on Messenger (Placement.) 
Uses of Facebook Messenger Ads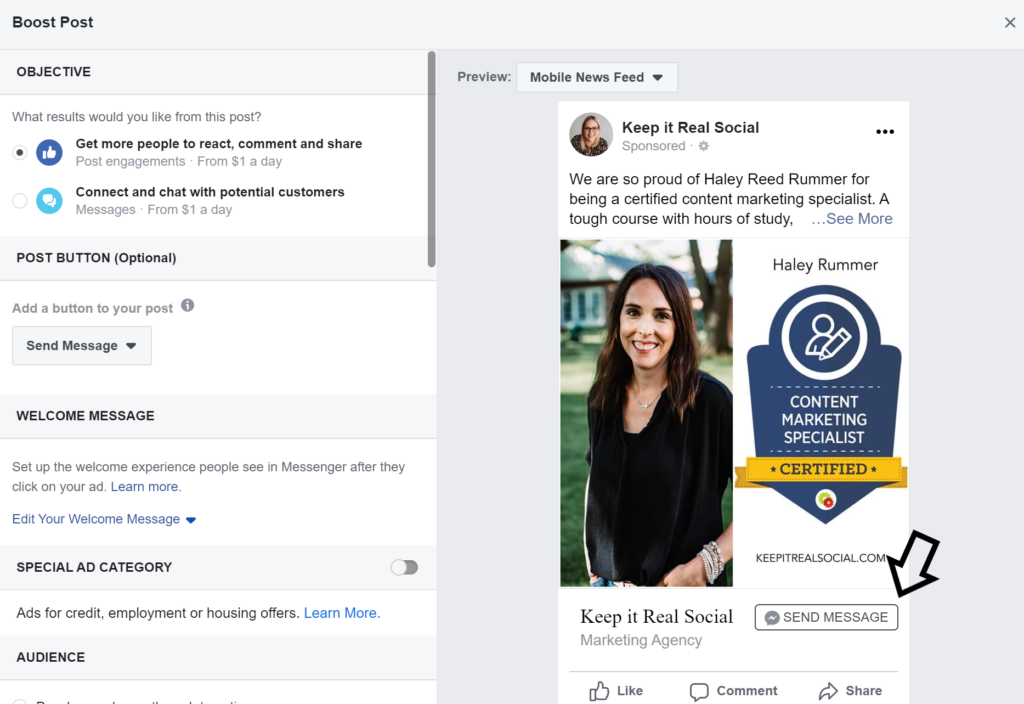 Direction ads meant to send users to Messenger appears in their regular news feed. A call to action button will open a Messenger conversation. This is a great way to make business more personal. It's been widely shown that consumers trust a business more when they feel a personal connection to them. It's important to note that only those who have the Messenger app installed to their phones can see this type of ad. Placement ads let you send messages to people on Messenger. Your company can send coupons with these ads, ask questions to gain feedback, offer incentives for participating in a forum, and provide users with purchase suggestions, and so many more. Keep in mind; you will want to monitor your messenger app regularly. Engagement and response time is all part of building relationships and making your business more personal. 
Hopefully, you learned some basics of integrating Facebook ads into Messanger that will help you get started. This up and coming Facebook marketing option has tons of potential for the savvy marketer. Play around with it, and start generating creative campaign ideas to put into action. 
Keep it Real Social
We believe in implementing REAL solutions to deliver REAL results. Begin by joining Keep it Real Social and you'll receive access to our FREE Social Media Strategy Worksheet, DIY Social Media Audit & Tracking form, plus get access to our private Facebook group for social media coaching.