Independence Day is a day to celebrate our country and our freedoms. This is a great time to highlight our creativity, inspirations, abilities, and engage with our audience. Market with a Bang and Celebrate the 4th of July with your fans and followers with these 5 marketing tips.  
RUN A FOURTH OF JULY SPECIAL
Everyone loves to save money, especially right now. Running a 4th of July special is a great opportunity to encourage your customers and clients to walk through your door, order online, or pick up the phone. This provides exposure to your business and encourages shoppers. You can share your post on social or easily set up a patriotic Facebook ad for a minimal expense and target your audience with a celebratory Sale!
SHOW YOUR PATRIOTISM ON SOCIAL 
Celebrate Independence Day in style! Show off your flare and celebrate with your fans virtually this 4th of July. If you are a retail store, stock up on patriotic gear, like shirts, hats, headbands, plates, napkins, etc., and show them off on Facebook, Instagram, or in your weekly newsletter. Decorate your building, office, or store, and show off your love for red-white-and-blue for everyone to see! Maybe you own a deli, bakery, or craft store, highlight your 4th of July desserts or make a fun craft or patriotic art project with DIY instructions and your link to purchase the products. You may not be able to celebrate with large crowds, but you can show off your flare and celebrate virtually. Post 4th of July Pictures, Video tutorial, DIY recipes, activities, workouts, and more. Get creative and show your audience what you can do.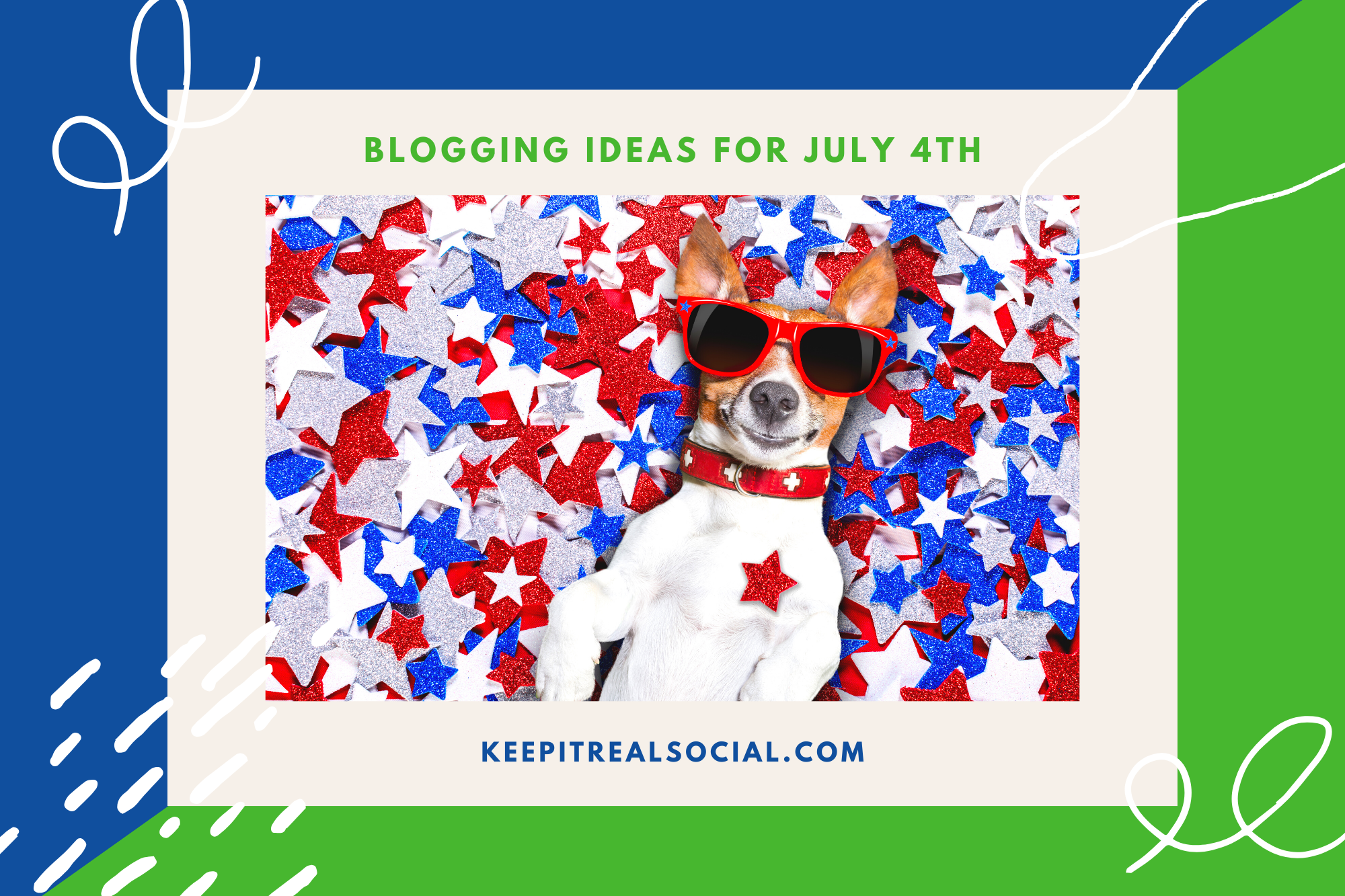 BLOGGING
If your business has a blog this is a great way to highlight your business and Independence Day. Some great 4th of July Blog topics are:
Food
-July 4th Grilling Recipes: Post a video, pictures, and step by step instructions on your favorite 4th of July grilling recipes
-July 4th dessert Recipe: This one can be fun and creative, show off your best red-white-and-blue dessert with pictures, videos, and step by step instructions.
-July 4th Cocktails: Share a fun 4th of July recipe with your readers, you can have both an adult and kids version.
Fun
–4th of July Activities: Highlight some fun ways to enjoy the 4th of July without the big crowds, loud fireworks, and busy parades. Examples are enjoying a family picnic, playing a board game, making a craft, etc.
Flare
Fashion Fun: Highlight your 4th of July beauty or fashion inspiration. This could be products you sell, outfit ideas, makeup tutorials, DIY fashion activities.
Decorate for the 4th: Share decorating ideas for both indoors and out.
Fit
Healthy Holiday: You can list at-home workouts, local trails for hiking, biking, paddleboarding, or make up a fun 4th of July specific workout. 
SHOPE AND SUPPORT LOCAL 
July 4th is looking a lot different this year, but that doesn't mean we can't support our locals. Businesses aren't getting the foot traffic that they typically get from the parades, fireworks, events, or vacationers like years past, so social media exposure helps exponentially. Host, share, attend, and market other businesses having events, both virtually or in person. If you shop, eat, visit, or engage with a company, share their page, leave them a review, and tag their business.
RUN A VIRTUAL CONTEST
I don't know about you, but I am competitive, love free prizes, and enjoy the excitement of a good contest. Running a virtual contest is an opportunity to have a little fun and gain a lot of exposure. Share your excitement about the holiday, your business and or your products. You can run a like and or comment contest, a photo caption contest, a vote to win a contest, and the list goes on. A virtual contest is fun and can increase your engagements, brand exposure, and followers, so have fun and get creative.
We hope you all have a fun, safe, and successful 4th of July!
For more marketing tips and ideas sign up for our weekly email: